The Coming of the 3rd Platform and What This Means for Software Business Models
IDC Research Report Provides Essential Guidance for Intelligent Device Manufacturers
The IT industry is in the midst of a massive structural shift toward what IDC calls the 3rd Platform. The 3rd Platform is the next-generation compute platform characterized by a proliferation of always-connected smart mobile devices, coupled with the widespread usage of social networking, and layered over a cloud-based server infrastructure. The new platform makes possible a broad proliferation of two important, value-generating overlays on top of this foundation: big data analytics and social technologies.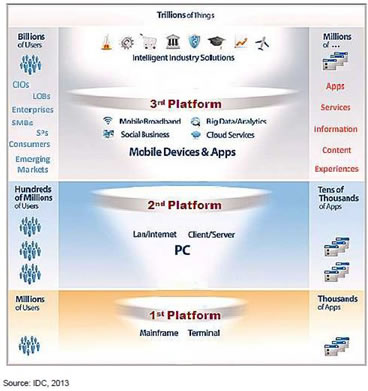 A combination of factors are actively driving the adoption of the 3rd Platform:
Ease of access
Cost
Sales Channels
Self-service/self-provisioning
Hubs and value-added application mash-ups
Read this research study to learn more about the rise of the 3rd Platform and the ways in which software business models will change as a result. Advice to intelligent device manufacturers on pricing and licensing of software-based applications and services is provided.
IDC believes that 3rd Platform solutions will be the primary growth driver of the Information and Communications Technology (ICT) industry over the next decade, responsible for 75% of the growth as worldwide industry spend moves from $3.2 trillion in 2013 to $5.3 trillion by 2020.
Learn About the Opportunities and Challenges for Intelligent Device Manufacturers
* indicates required fields
Written by Amy Konary, Research Vice President – Software Licensing and Provisioning, IDC

"The 3rd Platform is not just a technology revolution; it's a customer revolution. As a result, expect the rise of new business models that align more closely with customers' experiences and will generate opportunities and challenges for software customers."
Amy Konary
Research VP of Software Licensing, Provisioning and Delivery
IDC